Introduction of Social Contribution
We deliver the virtue of sharing from nearby places, namely my workplace and my neighborhood.
Local Social Contribution Performed in Construction Sites Nationwide
DL E&C carries out local social contribution through which it can practically help local communities at its construction sites nationwide so that neighbors can become happy.
House repair for neighbors in a difficult situation

Local facility repair

Donation of goods
Vocational training

Support for welfare
organizations

Voluntary work for sanatoriums/daycare centers
Operation Direction: Five Major Forms of Sharing
DL E&C endeavors to help in local community development, instead of engaging in one-off donation, to be reborn as a corporate citizen fulfilling its social responsibilities. We have set the operation directions – sharing happiness, sharing love, sharing culture, sharing nature, and sharing wish - in view of the construction industry's characteristics and the DL Group affiliates' competencies.
We focus on social contribution activities to be more helpful and better.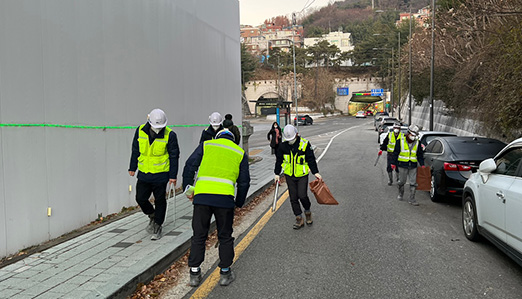 Sharing NatureProtect mountains and rivers nationwide.
DL E&C launched a "Sharing Nature Volunteering Group," and it is conducting "1 mountain, 1 river, and 1 road cleaning and trimming" campaigns in 10 regions including Seoul.
Since 2005, DL Group executives and employees and their families have been holding the Mt. Namsan Environmental Cleaning Activity each quarter.
Sharing loveWe help neighbors for a better society.
DL E&C conducts sponsoring activities for neighbors in difficult situations in linkage with daycare centers, sanatoriums, and welfare organizations. The DL head office carries out bread making for the underprivileged and goods making for children of developing countries in Southeast Asia. Construction sites nationwide deliver the value of sharing by visiting local welfare organizations.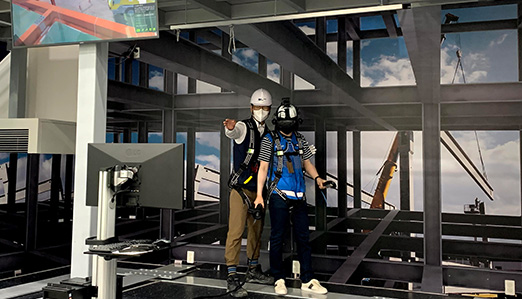 Sharing wishWe support the dreams of collegians and disabled people.
DL E&C donates goods and money to disabled people and underprivileged people and supports collegians through its scholarship foundation.
Since 2004, we have been donating computers and peripherals in association with self-support sponsoring organizations.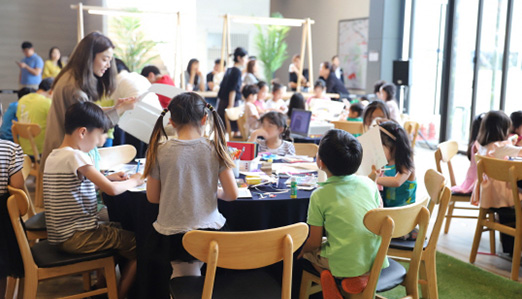 Sharing culture We support Korean artists' creative activities to bring us closer to arts
in our everyday life.
DL Group modern fine art and design exhibitions to make modern people access fine art easily through art museum operation under the vision "Art museum where everyday life becomes art."
We assist young artists in their creative activities for them to grow.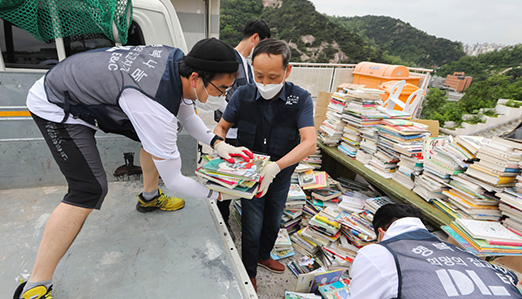 Sharing happiness We repair the houses of the underprivileged as part of the things that
we do best.
DL Group involved in underprivileged people's residential improvement activities since 2005. In linkage with Habitat Korea, we have waged the "House Repair for Hope" campaign to improve worn-out housing areas and welfare organizations' facilities in Seoul and Seoul Metropolitan Area this year as well.