Smart/Eco Team
Green Technology & Consulting
Creating the Difference in Green Technology
The Smart/Eco Team leads the development of eco-friendly construction technologies and realizes topnotch differentiated technical products and technologies and customer satisfaction in the industry.
Technologies Owned
Low-energy
technology development

Aluminum curtain wall consolidating insulation performance
Optimum design technology of water piping using BIM
Thermal bridge design
High insulation and high sound insulation PVC turning door
Tile-attachable, surface-consolidating dew condensation prevention insulator
Technology using a building foundation structure soil heat exchanger
Small-scale complex air conditioning system
High airtight construction

Health/Safety
technology development

Air cleaning ventilation system
Optimized floor cushion pad to prevent noise between floors
Fire stability-reinforced fire door
High-sound insulation, light wall design
Sensibility-satisfying sound design
Radon-safe apartment factor technology
Smell cause analysis and reduction method
VOCs materials reduction and eco-friendly factor supplementing technology
Non-directional smoke control damper

Smart home
technology development

Integrated sensor to control indoor air quality
Gas stove hood+ventilation system-linked control
Face recognition access system
Air control technology considering the indoor/outdoor environmental factors
Low-air volume control operation of a ventilation device to reduce dew condensation
Alert information and control technology based on weather station and integrated sensor
Representative Technologies
Aluminum Curtain Wall Strengthening Insulation Performance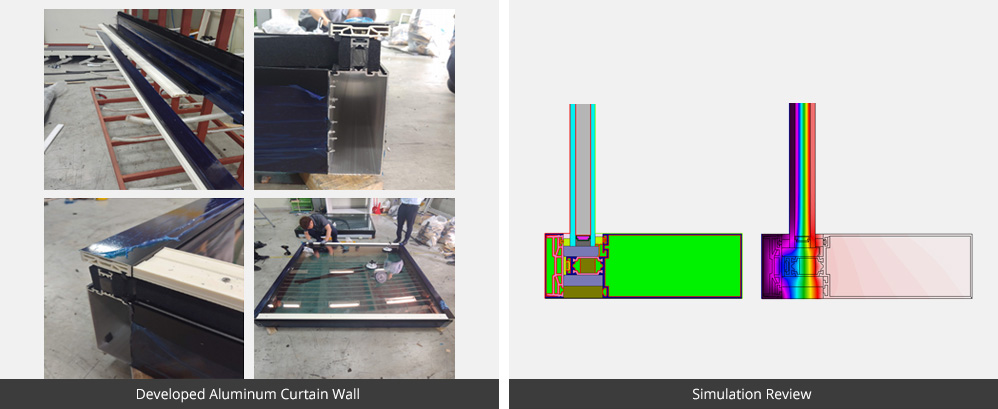 Technology
overview
Satisfying heat transmission coefficient of 1.3W/m2K or less by applying low-e glass to the aluminum curtain wall combining factor technology, which improves insulation performance
Effects
20% cost savings are realized compared to the general triple-glass curtain wall system having the same thermal performance.
Applied Projects
The curtain wall is scheduled to be applied to the supplementary facilities in new project sites in 2021.
Intellectual
Property Rights
Patent Application No. 10-2019-0068692: insulation curtain wall system
Optimum Design Technology of Water Piping using BIM

Technology
overview
Technology that can optimally design the pipe diameter, pumping head, and distribution performance of the water piping system using BIM-based 3D piping model
Effects
Quality improvement including water piping system's pipe cost savings, pump capacity optimization, and pipe's distribution performance by combining BIM technology with water piping design
Applied projects
Applied to district heating sites including e-Pyunhan Sesang Sejong River Park
Intellectual
Property Rights
Patent Registration No. 10-2033620: water piping design method using BIM system
Program Copyright Registration No. C-2018-001789: Eco-flow designer
Air cleaning ventilation system

Technology
overview
Total heat exchange ventilation system by which indoor air can be cleaned using the internal circulation mode and high-performance HEPA filter on days with high fine dust concentration
Effects
A pleasant indoor environment is provided without worries about fine dust by applying high-performance HEPA filter (including air cleaning function by which 2.5㎛ or finer dust can be removed by 99.9% and 0.3㎛ or finer dust can be removed by 99.5%).
Applied projects
Applied to e-Pyunhan Sesang Chuncheon Hansup City, Terrace Opo
Intellectual
Property Rights
Patent Registration No. 10-1638065: ventilation system with air filter and bypass route and ventilation method using such system
Optimized Floor Cushion Pad to Prevent Noise between Floors

Technology
overview
As a complex structure of EPS and EVA, lower limb structure-type EVA is applied to the bottom of the buffer material, and slab-type EPS is applied to the top. Thus, it is a high-performance floor cushion pad forming the floating structure
Effects
World's top-level heavy impact sound reduction performance (acknowledged performance: light impact – grade 1, heavy impact – grade 2)
Applied projects
Applied to the floor structure of all apartment units of e-Pyunhan Sesang / ACRO
Intellectual
Property Rights
Patent Registration No. 10-2015-0031027: composition of ethylene vinyl acetate for cushion pad to reduce the floor noise of apartments
Integrated Sensor to Manage Indoor Air Quality

Technology
overview
Integrated sensor that automatically manages indoor air quality through the measurement of five factors of indoor air quality (fine dust, CO2, VOCs, temperature, and humidity) and linkage with the air cleaning ventilation system
Effects
As an item of the smart air control system, indoor air quality is automatically controlled without the occupant knowing. Indoor ultra-fine dust state is indicated through intuitive display.
Applied projects
Applied to ACRO Seoul Forest, Deoksugung The Place, Gamil ECON e-Pyunhan Sesang
Intellectual
Property Rights
Patent No. 10-2019-0096825: indoor environment sensor installation device with the separated structure of air intake and discharge domains